Sustainability
Fostering resilient, caring communities that leave no one behind, living within ecosystem and environmental limits.
"Sustainable development is development that meets the needs of the present without
compromising the ability of future generations to meet their own (foreseeable) needs."
Our Common Future (WCED, Brundtland Report 1987)
Overview
For over 10 years, sustainability has been Sime Darby Property's beacon, an idea we have sought to progressively understand, nurture and embed within the company's corporate culture. This includes our value chain, products, services and communities. Simultaneously, we have developed a growing awareness of how our scale (being the largest property developer by landbank in Malaysia) gives us the ability to do a great deal of good or the opposite if we do not take into account our stakeholders' interests and needs while doing business. These are: the need to achieve balance amongst the three spheres of sustainability and to consider the inherent risks and opportunities associated with the very real impacts of Climate Change and the limits of our environmental systems and processes.
Hence we are now applying sustainability within a Sustainability Ecosystem Approach, taking into account the implications, impacts and opportunities of a multiplicity of components, interrelated parts, actors/stakeholders and natural and physical resource inputs. All these interact within a shared socio-economic, cultural, environmental and political context.
In simple terms, it is about how we deploy resources to achieve prosperity, and in doing so support the United Nations Sustainable Development Goals (SDGs) 2030 in a responsible manner that does not exceed our planet's threshold.
This long-term direction and desire to be a leader in sustainability in our sector has resulted in the company being accredited during 2018 and 2019 as a constituent within The Dow Jones Sustainability Index (DJSI) Emerging Markets sub-indices; and for three consecutive years (2018-2020) in the following:
FTSE4Good BURSA Index:
FTSE4Good ASEAN 5 Index:
FTSE4Good Emerging Index: and
Morgan Stanley Capital International (MSCI) Small Cap Index.
From 2019, we also became rated under the Carbon Disclosure Project (CDP), a Global Carbon and Environmental Benchmark Rating body, achieving a 'C rating', which we will improve over time.
Sustainability milestones
"Milestones demonstrate that there has been a planned, progressive journey"
Sime Darby Property's Sustainability Journey started just after the formation of the previous Sime Darby Berhad conglomerate around 2007, which the company was a Division of until we demerged in 30 November 2017 to become a separately listed company. During our formative years and stages, the company gained an understanding of sustainability and what it means to the business and our stakeholders. Progressive achievements were made too. The subject was largely approached from a process linear perspective, which has evolved into the Sustainability Ecosystem Perspective.
2007/08
2009/10
2011
2012/13
2014
2015-2017
2018/19
2020
Merger of Sime Darby Bhd
Adoption of Sustainability into Company Corporate Vision
Sime Darby Bhd Sustainability Governance established
ISO 14001, OHSAS 18001, ISO 9001, MS1722
Idea House – 1st certified carbon neutral residential building in SE-Asia
In-house township sustainability assessment tool (SUSDEX)
Carbon Footprint Project (CFP) launch
Development of 1st SDP Sustainability Strategy, Goals and Formalisation of Initiatives
Prime Minister's Hibiscus Awards
Launch of Tree-To-Tree Tracker
ISO 50001 EnMS
Launch of City of Elmina
1st LEED Silver & Gold Certified Building In Malaysia
Sustainability Leadership Index into Performance Planning metrics (scorecard KPI)
First GRI Stand Alone Sustainability Report
ACCA, MaSRA Sust Reporting Award
Young Sustainability Ambassador Community Program launched
Threatened Tree Species Landscape Guideline published
Launch of Bandar Bukit Raja 2 and Serenia City
50% of CIDB QLASSIC Awards
Eco-Efficiency Programme launched
Bandar Bukit Raja Community Recycling Programme
Constituent in DJSI (2018/2019)
Constituent in both FTSE4Good Indexes (BURSA & ASEAN 5)
MoU with UN Agency for Inclusive Playground development and Toolkit
Launch of Community Urban Farming at Elmina Valley
MoU with Enviro NGO for Elmina Rainforest Knowledge Centre (ERKC) and Native Tree International Union for the Conservation of Nature (IUCN) Nursery
MoU with TNBX for PV Installation on homes
TPCKL Audubon Certification
42.5% carbon intensity reduction (2019)
MoU with TNBx for PV installation on homes
Notified of CDP Inclusion and Rating
Board of Directors' approval of Sime Darby Property 2030 Sustainability Goals
20,790 IUCN Red List Trees planted (2011 - June 2020)
102,167 Trees planted (not shrubs, 2011- June 2020)
IUCN Native Tree Nursery construction
Elmina Rainforest Knowledge Centre construction completed
Sime Darby Property Sustainability Disclosure
& Publications
For a detailed chronological disclosure on sustainability, the following reports can be downloaded in low and high resolution formats. Our aim is to publish a detailed report once every 2-3 years. All reports were prepared in accordance with the 'Core Level' requirements of the Global Reporting Initiative (GRI) G4 Guidelines. In preparing our sustainability disclosures, every effort is made to provide a realistic, balanced, comparable, data-supported and accurate account of our Sustainability Status at the time of publication.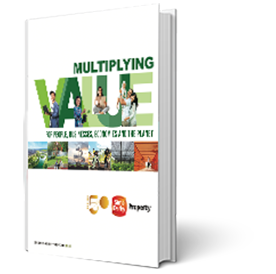 Sustainability Report 2022
Multiplying Value for People, Businesses, Economies and the Planet
Download Here |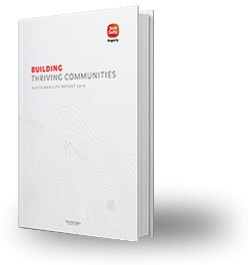 Sustainability Report 2016
Recipient of 'Europa Awards for Sustainability 2017, Best Sustainability Reporting' and 'Asia Sustainability Reporting Awards 2017, Asia's Best Reporting on the SDG – Highly Commended'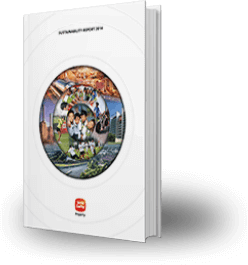 Sustainability Report 2014
Recipient of 'ACCA MaSRA Best First-Time Stand-Alone Sustainability Report 2015'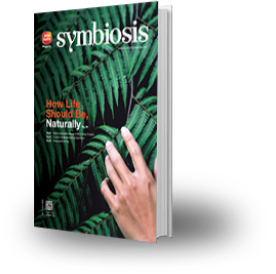 Symbiosis Vol.1/October 2020
Symbiosis gives a glimpse of how best sustainability practices make more enriching at Sime Darby Property's award-winning township, the City of Elmina.
Download Here |
Sime Darby Property Sustainability Sukuk Framework
To further support the delivery of sustainability to our customers and stakeholders, the Company has developed the Sime Darby Property Sustainability Sukuk Framework, to advance the Group's strategy and vision of building sustainable communities with the development of an ecosystem towards sustainable and responsible investing . The Sukuk Framework provides guiding principles on the use of 'ASEAN Socially Responsible Investment (SRI) Sustainability Sukuk Musharakah' proceeds, management of proceeds and commitments pertaining to allocation and impact reporting. For reference, a copy of the Malaysian Rating Agency (MARC) Sukuk Framework Impact Assessment Report where a Gold Rating was assigned, is also attached here.

The Group received the first tranche of its SRI Sustainability Sukuk Musharakah amounting to RM150 million in 2020, which is being used to refinance 5 eligible projects. A summary of the impact can be downloaded here.
Malaysian Threatened and Rare Tree Identification and
Landscape Guideline
The publication of the Malaysian Threatened and Rare Tree Identification and Landscape Guideline aims to provide a semi-technical resource which can be used by current and future landscape architectural practitioners. Its goals are to improve biological diversity conservation and increase the sectors' knowledge on utilizing the species. It is our vision that the growth in knowledge and awareness about these species and their potential benefits will increase the demand for such species in urban landscape design.
Design and Management Guidelines for the Constructed Wetlands in the City of Elmina
Wetlands are important biodiversity hotspots as well as effective carbon sinks. The level of biodiversity in wetlands is almost as rich as in rainforests and coral reefs, enabling them to sequester huge amounts of the world's carbon emissions. Due to their close proximity to urban areas, which exposes them to the threat of development, Sime Darby Property took a proactive approach to introduce guidelines on best practices on the development of land bank townships. We engaged Wetlands International to establish the Sime Darby Property Wetlands Construction and Maintenance Guideline, which sets out the requirements for future township development. The guideline also includes strategies for ensuring that relevant water bodies are constructed according to natural design principles to provide conservation spaces for more balanced ecological or hydrological systems.
Sustainability contact point