I'M INTERESTED

CONCEPT
The Grand Finale of Elmina Gardens
Skillfully crafted by our passionate team, Hevea is designed to exude the nostalgic charm of heritage colonial homes with an added influence of modern tropical elements.
1
The first single storey flexible living design concept
2
Facade and interior is inspired by classical Colonial elements
3
Distinctive materials and textures to enhance facade and improve sustainability
4
Hevea is the final phase within Elmina Gardens, the City of Elmina's low density neighbourhood
5
Built in with FittingsPlus+, Hevea comes with our premium selection of fittings and fixtures
Key Features
Stylish Semi-Detached Homes Perfected for the Modern-Day Family
Flexible single-storey living concept
Hevea has been cleverly designed to accommodate for single storey living capabilities made possible with two large ground floor bedrooms, with one being the master bedroom. The first floor holds additional bedrooms, each with an en-suite bathroom.

2 large
bedrooms on
ground floor

En-suite
bathroom

40' x 90'
Spacious land
area
Distinctive facade materials for a distinctive impression
Hevea's façade has been made distinctive with over 4 materials that have been personally identified and selected with wellness features in mind. Beyond the aesthetics, these materials make Hevea more livable and sustainable over the long run.
Fittings Plus+ for better living standards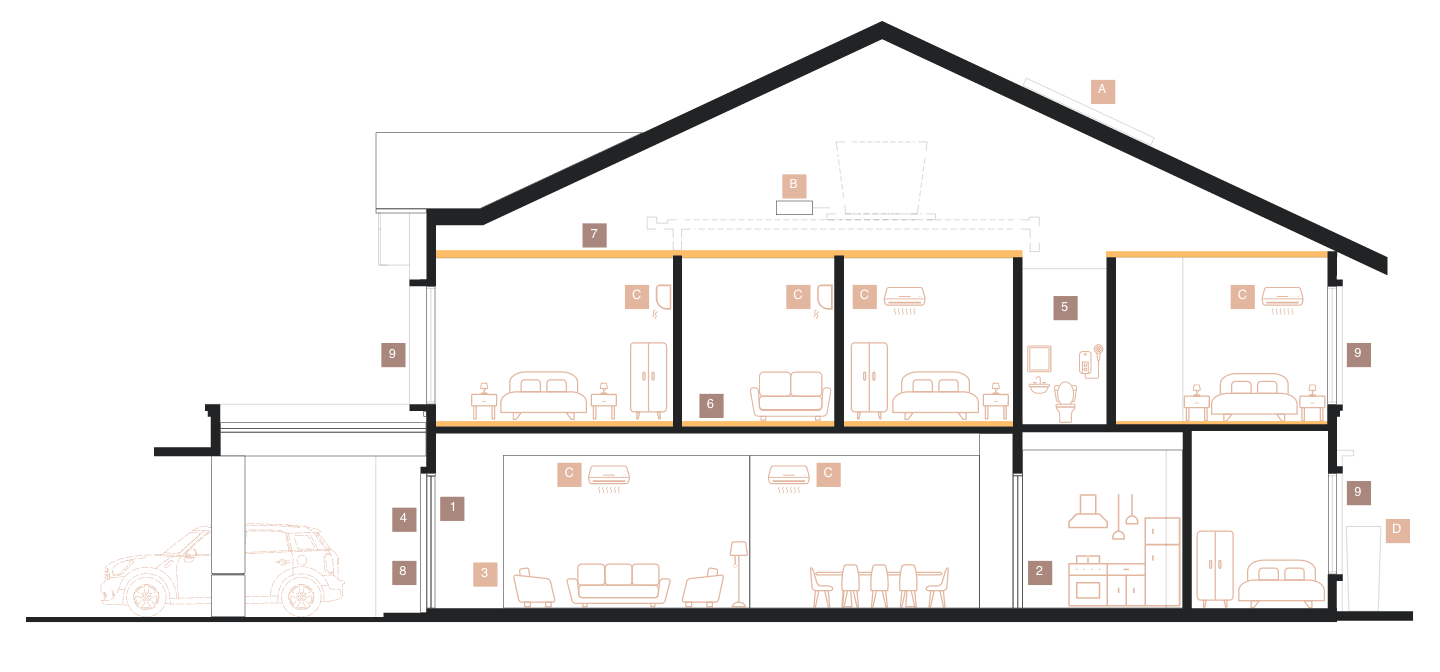 Note: This diagram is for illustration purposes only and does not reflect the final position and design of the fittings
Standard Specifications
And Fittings
Laminated Engineered Timber Door
Pocket Door
Basic Alarm System
Quality lockset
Premium Sanitary Wares and Fittings
Engineered Timber Flooring
Stone Wool Roof Insulation
Glass Louvres for Ventilation & living Door
Large Windows
FittingsPlus+
Solar Water Heater
Booster Pump
Air-conditioning Point and Piping
Rainwater Harvesting Tank
AROUND HEVEA
Cycle, jog, play, relax - all within the comfort of your neighbourhood
A. Hevea Green
B. Hevea Walk
C. Hevea Park
1. Playground
2. Gazebo
3. Seating Area
4. Pavilion
5. Open lawn
6. Hevea Plaza
7. Outdoor Gym
8. Basketball Court
9. Badminton & Takraw Court
10. Orchard
11. Hevea Feature Tree
12. Walkway
Location Map